About Us
About Goshen House


"Goshen house" a Christian Guest House which came in existence in 2007, is a brain child of Jasmine Jirel, who has 15-years of experience in managing UMN guest house in Tansen. During those long years of hospitality service, Jasmine had ample opportunities of knowing people from various countries and different cultures. While meeting with people from various walks of life, knowing them closely and interacting with them, she noticed that it was very important for the people to have a safe and friendly place to stay when they are away from their homes. That place should be a "real home" where people with different nationality, ethnicity and culture can come together and have fellowship.
With this intention in mind, we have carefully selected a place to ensure safe, quiet, peaceful and comfortable stay. Hence, Goshen is centrally located, within a self-contained compound. There is a big relaxing sitting room with television, collection of books, newspaper, magazines, games and toys for children. There are seven spacious rooms with big windows and adjoining balconies making them light filled, well ventilated place to enjoy. Our home is clean with four western style bathrooms with 24 hours hot and cold running water supply. A 360-degree panoramic view, including beautiful hills and snow-covered Himalayas can be enjoyed from the roof top terrace. Free high speed Wi-Fi throughout the house, clean and safe drinking water, power back-up system, are some other facilities. There will be an assistant residing in the premises round the clock to welcome you and render help.
Location:
We are in a quiet and safe residential area near Assumption Church in Bhanimandal (Dhobighat). Basket-ball chowk, is only about 150 meters away. Easy ten-minute walk brings you to the main ring road for catching buses and tempos to various destinations around the cities. Many Restaurants, Cafés, Coffee-shops, banks, hospitals, pharmacies, shops and departmental stores are within easy walking distance. Jawalakhel, where there are several banks, ATM, telecommunication center and stoppage for public vehicle plying to main city, is 15-minute walking distance. Patan Durbar square (2.5 km), Basantapur Durbar square (5 km), Narayanhiti Palace (7 km) and the famous tourist center Thamel (7 km) can be reached in 15 to 30 minutes depending on traffic congestion. Tribhuvan International airport is just 8.8 km away and can be reached in less than 30 minutes.
What we have:
Discount for groups and long staying guests.
Western style self serving Breakfast.
Lunch and Dinner on request.
24 hours hot and cold shower.
Free high-speed WiFi.
24 hours power back-up for light and laptops.
Landline Telephone.
Attached and shared western style bathrooms.
Big sitting room with cable television, books, news paper, games and toys for kids.
Tea/Coffee available 24-hours.
Kitchen.
Roof terrace with 360-degree panoramic view.
Foam mats for sun bathing on roof top terrace.
Balconies adjoining most of the rooms.
Safe drinking water.
Laundry service.
Luggage storage.
Rooms & Rates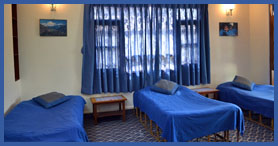 We have got 6 rooms and a spacious common sitting room.

» read more
General Information
Breakfast
Western style self-serving breakfast.
Drinking water
Safe Euroguard Filtered drinking water is provided.
Rooms
Rooms are well lighted and furnished. Room rate is negotiable for guests staying for long duration.
Shower
Every bathroom is connected to solar water heating system. Besides this, additional gas geyser is fitted in the common bathrooms.
» read more