Reach Us
Contact Detail
Goshen House.
Bhanimandal, Dhobighat
Near Assumption Church .
Lalitpur.
Contact Person:
            Jasmine Jirel
Phone:
            Telephone -                                +977 (1)55230812, +977(1)5545328
            Mobile -                                  + 9779841702828
           
Email:
            goshen.house07@gmail.com,
info@goshenhousenepal.com
Website:
            www.goshehousenepal.com
Map:

View Larger Map

Send us a Message
Please feel free to send feed back and comments :
Goshen House Nepal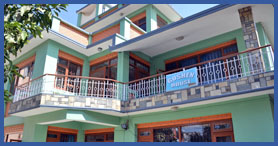 "Goshen House" is a Christian Guest House, established in 2007 and is managed by Jasmine Jirel, who has the experience of managing UMN Guest House, Tansen for 15 years.
» read more
Rooms & Rates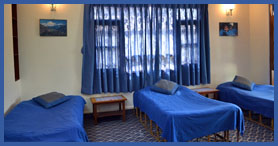 We have got 6 rooms and a spacious common sitting room.

» read more
General Information
Breakfast
Western style self-serving breakfast.
Drinking water
Safe Euroguard Filtered drinking water is provided.
Rooms
Rooms are well lighted and furnished. Room rate is negotiable for guests staying for long duration.
Shower
Every bathroom is connected to solar water heating system. Besides this, additional gas geyser is fitted in the common bathrooms.
» read more