General Information
Breakfast:
Western style self-serving breakfast.
Drinking water:
Safe Euroguard Filtered drinking water is provided.
Rooms:
Rooms are well lighted and furnished. Room rate is negotiable for guests staying for long duration.
Shower:
Every bathroom is connected to solar water heating system. Besides this, additional gas geyser is fitted in the common bathrooms.
Laundry:
Laundry service is available as needed, every day except on Saturdays. Ironing facility is also available.
T.V. & DVD:
There is a Cable T.V and DVD in the sitting room. Guests are welcome to use them free of cost from 9 A.M. till 9 P.M. without disturbing other guest/s.
Internet:
Free wireless internet is available in the rooms for those who have their own laptops. For those who do not have your own laptops, there is a computer in the sitting room.
Telephone:
Local calls can be made from the sitting room which is free of charge.

Cooking:
Facility for cooking is provided in the kitchen area for guests cooking their own meal at free of charge. Helper can be arranged for those who would like to stay longer and have their own food.
Church Services:
There are several local Churches nearby. Some of the Churches have services both in Nepali and English. Please contact the staff for information.
Electricity Supply:
In Nepal, electricity supply is of 220 Volts. Load shedding is frequent during the dry season, but we have 24 hours backup system for light and internet.
Fire Extinguisher:
The fire extinguisher is placed in the kitchen area for in case of any emergency.
Local transportation:
Taxis and other public transportation are available nearby. Hired vehicles can be arranged for local use or sightseeing purposes at request.
Goshen House Nepal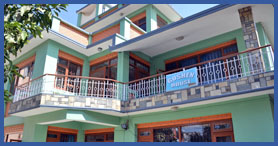 "Goshen House" is a Christian Guest House, established in 2007 and is managed by Jasmine Jirel, who has the experience of managing UMN Guest House, Tansen for 15 years.
» read more
Rooms & Rates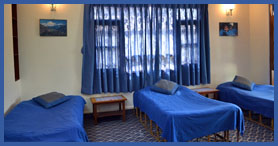 We have got 6 rooms and a spacious common sitting room.

» read more