Testimonials
" Goshen - our second home! Regular visits since 2008. When we come to Nepal to live and work in Tansen. We will miss it. "
- Pernilla Ardeby, Sweden.
" A wonderful experience. I felt at home. It was lovely to interact with people from different countries. I take sweet memories. Thanks! "
- Deepti, Bangalore, India
" What a wonderful place, comfortable + clean and a very real presence of God here. "
- Nicola Tulman, Zambia
" Goshen is very nice place to stay. When I am in Kathmandu I feel very much like at home here. "
- Mikko Vuolle, Finland
" This has been a lovely stay. This house is clean, comfortable and safe. Thank you for your hospitality. I will recommend Goshen to future visitors to Kathmandu. "
- Sara Rock, USA
" Dherai Dhanyabad (Thank you very much) for homely atmosphere and hospitality. We really enjoyed our stay here. Great location. "
- Emaltez, Hawaii
" We have been so blessed as a freedom Climb Prayer Team to stay here. Thank you for all you and the staff done. "
- Heather Laba, South Africa
" May this house continue to be used for the propose of blessing other people. May god keep blessing you! "
- Martha Corrga, Portugal/Luxemburg
" Thank you for the great family like environment and affordable place. "
- Steve & Tara Renault, Nepal
" Very clean very hospitable. Nice facilities. I would recommend this place to other people. "
- Mike Mason
" Very nice & comfortable, wonderful rest. I want to visit again. "
- Peter Jee
" Thanks for your warm attitude & arrangement every time. See you soon, after Tihar! "
- Atsushi Suhara
" Thank you for your hospitality. "
- Sarah Johnson & Laura Talbot
" Excellent home away from home! I will highly recommend to others! See you next year big thanks. "
- Romy M. Caringel
Goshen House Nepal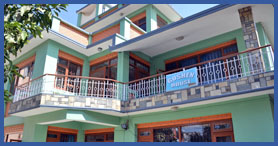 "Goshen House" is a Christian Guest House, established in 2007 and is managed by Jasmine Jirel, who has the experience of managing UMN Guest House, Tansen for 15 years.
» read more
Rooms & Rates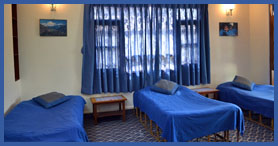 We have got 6 rooms and a spacious common sitting room.

» read more